Summer Breeze ( Corfu Greece ) Natasha watts performing live June 5th / 12th 2022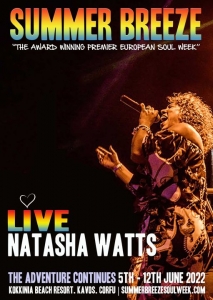 SUMMER BREEZE 2022
Date: Sunday 5th – 12th June 2022
Location: Kokkinia Beach Resort, Corfu-Greece
CONTACT OFFICE: 07935 826870 (10am – 4pm | Mon – Fri)
Summer Breeze presents the Sound of Summer 2022….
SHIRLEY JONES / D-TRAIN / ODYSSEY / LIGHT OF THE WORLD / SHAILA PROSPERE / NATASHA WATTS
DJs: Louie Martin | Ian Charles | Phil Baker | Simon van Os | Roni O'Brien | John Osborne | Mike Stephens / George Kay | Andy Jackson | Paul Mac | Norman Halley Brian 'Bizzy B' Pemberton | Joseph 'Rocky' Skerritt | DJ "S" / Steve Lane | Gary Dean | Tony Mac | Mark Leonard / Michael Angol | Clive Farrer
SUMMER BREEZE IS AN AWARD WINNING OVER 30s SOUL WEEK set in stunning locations on the beautiful beaches of its Corfu playground. Expect pool and beach parties during the daytime and first rate night time entertainment with sets from some of the finest soul DJs, providing us with a genuinely soulful vibe throughout the week.
We are the friendliest, warmest and most welcoming soul week with an easy, relaxed vibe and the perfect holiday setting. All our artists and DJs come for the week; holiday with us, party with us and play great music for us!
Here's what to expect: 10 Nights of Daily Pool & Beach Parties | night time Club Events, including themed nights | Boat Parties | Beach BBQs | and a Trips to Paxos (a Millionaires Island Paradise).
You're Accommodation (2/3/4 people sharing, with a small additional charge for single person occupancy), Your airport transfers, all local taxes and your Summer Breeze wristband with entry to all your entertainment – Club Nights – Pool Parties – We have one of the best DJ line-ups and a soulful varied music policy. We offer onsite helpful Summer Breeze Reps and friendly and polite Security.
And there's Big Discounts and Cheap Prices on Premium and local Beers and Spirits / Breakfast / Snacks / Dinner and Meals. We arrange discounts of up to 15% and then the choice of where to eat is left to you.
Please note flights are not included. Bought at the right time return flights can cost as little as £90 – £120. We keep you informed of any deals and flight release dates on our website and through social media.
Thinking of extending your stay at Summer Breeze Soul Week, we have a great programme of excursions and events throughout June from 1st to the 19th. This option allows you more flexibility when choosing your flights and the number of nights you wish to attend.
We look forward to partying with you in 2022. Summer Breeze is "the Premier European Soul Event'. Add us to your list of must do events in 2022.